Company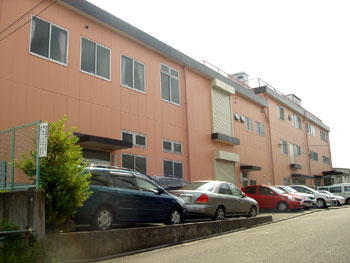 Greetings
Since our estabilishment in 1973, we have been developing and producing such computer application products as CCTV peripheral equipment, telecontrollers, infrared space transmitters, auction processors, Medical equipments and etc.
Now that we re in the midst of globally competitive era, we think that we must keep our eyes wide open to look around at both the domestic and overseas markets in the field of intelligence, communications and applied electoronics.
We feel we must make a contribution to society on a customer satisfaction basis with brilliantly unique technology which only Fuchu Giken owns.
We also believe that it is very important to have close and reliable relations with customers, business partners and parties concerned.
Kazuaki Hatano, Chairman of the Company
Company profile
Company name: Fuchu Giken, Inc.
Head office: 5-38-33 Minami-cho, Fuchu-shi, Tokyo, 183-0026 Japan
Tel: 81-42-366-3544
Fax: 81-42-334-4948
E-mail: overseas@fg-go.co.jp
ISO Certificate
ISO9001
Management System Certificate
Certificate Number:02244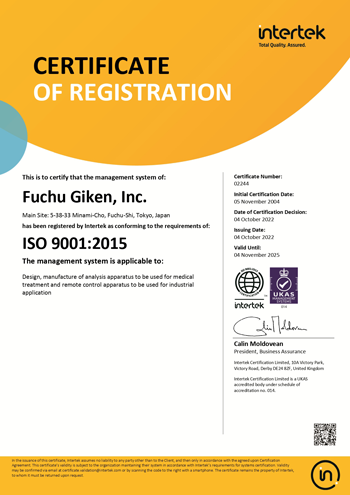 Medical Equipment
Inquiry/Order E-mail:overseas@fg-go.co.jp
Bil Meter Brochure_revised[PDF:329KB]
Total Bilirubin Analyzer
BIL MICRO METER AUTO-3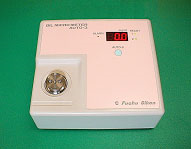 The AUTO-3 is an advanced model for quickly measuring the total bilirubin in serum without being affected by an influence of the light.
The Auto-3 features ease of operation, high stability, compact size and low power consumption.
The conventional principle of measuring maximum absorption of bilirubin at the wavelength of 455nm and subtracting the turbidity caused by hemolysis and contamination at the wavelength of 575nm is followed in this model, but a longer life and higher performance are secured by the adoption of new technology such as a white LED for light source and 16 bit microprocessor.
Features
Easier operation
There is no need for frequent adjustment.
Auto-zero is automatically done by push of Auto-zero button.
An alarm signals abnormalities such as high concentrations or high hemolytic hemoglobin, etc.
High stability and reliability
Dual wavelength analysis corrects the influences of hemolysis and turbidity.
A long-life white LED is adopted as a light source.
Compact size and light-weight
Weight is 2.0kg and it is easy to carry.
Low power consumption
Only 15VA of power consumption (in case of 100V) saves running cost.
Specifications
Measuring range: 0 to 30mg/dl(total bilirubin)
Response: 3 second
correcting hemolysis: 0 to 250mg/dl
Concentration alarm: Indicates 999 for 31mg/dl or more
Turbidity alarm: Turbidity of 250mg/dl or more
Filters: 455nm & 575nm
0-Adjustment: Automatically adjusted by pushing a button
Sample blood volume: 50 to 60μl(whole blood)
Cell: Designated capillary tube
Display: 3-digit 7-segment red LED
Light source lamp: White LED
Dimensions: 230(w)x200(D)x100(H)mm
Weight: Approx.2.0kg
Power supply: AC100-240V 50/60Hz 15~40VA